ARIADNE was honoured to be partner the Theatre of War Symposium with the Abbey Theatre in Dublin, 22-24 January 2015.
This three day symposium was a unique gathering of artists, journalists and academics discussing the world's most troubling conflicts from a global, contemporary and historical perspective.
Five of our ARIADNE profiled theatremakers joined us in Dublin for the three day symposium.
War is conflict, and conflict is drama. But unlike a red velvet curtain falling gracefully across a stage at the end of a production, when governments announce a war is over, not only does the drama not stop, but it has barely begun. Women across the world are making theatre, either because of the wars they have lived through, or in spite of those wars. Why is it important that women in particular are making, creating and leading that theatre? Project ARIADNE partners with theatremakers from Colombia, Sri Lanka, Palestine, Burundi, Rwanda and Serbia to research and interview women working in conflict-affected areas. On Thursday 22nd Jan, Project ARIADNE's Susannah Tresilian presented the project, introducing the work of some of the extraordinary theatremakers with short films.
ARIADNE THEATREMAKERS' PRESENTATIONS
ARIADNE: Burundi Frédérique Lecomte
Belgian theatre director and writer, specialises in théâtre et réconciliation, working always in the open air with vulnerable people and victims of trauma. She brings together groups in conflict and facilitates them to work together creatively - a methodology that is now widely recognised.
ARIADNE: Rwanda Hope Azeda
Rwandan theatre director and writer who uses drama to transcend entertainment to become also a tool for social transformation. Most recently wrote and directed the performance at the centre of the national Kwibuka20 Commemoration Ceremony, with members of the Olympic 2012 Opening Ceremony Team. She says, 'They say art is a mirror of life, so I just write what is in front of me.'
ARIADNE: Palestine Iman Aoun
The realisation that over half of Palestine's population is under 18, puts an urgent focus to Iman Aoun's work with the youth of Palestine. She brought together the voices of young people to create The Gaza Monologues - which became an international sensation - and she directed the Palestinian Richard II at the Globe to Globe Theatre Festival in 2013. She runs Ashtar Theatre Group in Ramallah.
ARIADNE TALKS, day by day: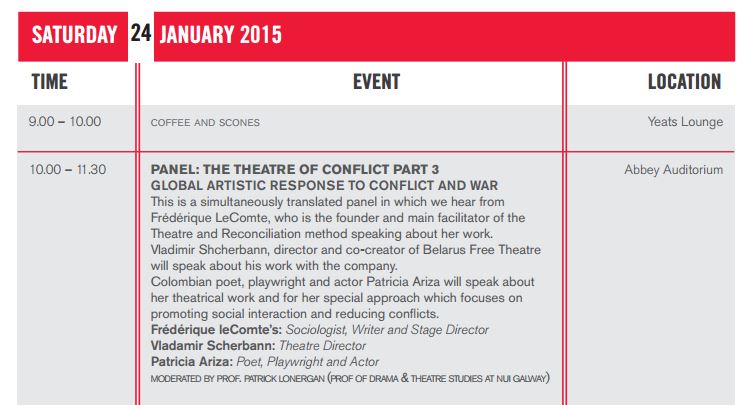 ARIADNE: Sri Lanka Ruwanthie de Chickera
Writer of overtly political Sinhalese and a-political English plays in Sri Lanka, that tour the country. Founding member and artistic director of the Stages Theatre Group, one of Sri Lanka's most well-known and highly-respected theatre groups. She says, 'I try to keep my opinions out of the play.'
ARIADNE: Serbia Dijana Milošević
Dijana Milošević is a theatre director, co-founder and artistic director of DAH Theatre in Belgrade, Serbia, the first theatre laboratory in her country. In addition to directing socially engaged theatre works, she has worked on issues of violence against women with the activist group 'Women in Black', performing stories of women from Kosovo, Bosnia-Herzegovina, Serbia and Croatia.
ABBEY THEATRE presents the Theatre of War Symposium